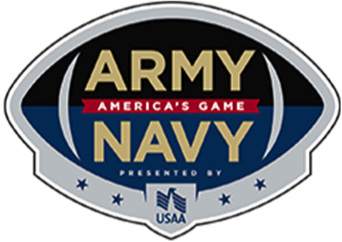 When:              Saturday, December 14, 2019, from 12:30 PM to 5:30 PM (Central), TV Coverage on CBS is at 2:00 PM
What:               Combined Army Navy Watch Party At a Sports Bar & Grille in the KC Metro 
Where:             Fox and Hound Bar and Grill, 10328 Metcalf, Overland Park, KS 66212            
Who:              West Point Society of Graduates of Greater Kansas City, West Point Parents Club, Friends of West Point, AUSA, Naval Academy Alumni Association, Greater Kansas City Metro Chapter, Naval Academy Parents Club, Friends of the Naval Academy Alumni Association, Navy League, and American Fallen Warrior Memorial Foundation (AFWMF), and non-Academy affiliated service guests. Family members are cordially invited as well.  This is a family friendly event. 
Dress:             Casually: Army and Navy Spirit Wear   
Food:              Order Off the standard menu
Cost:              No cost for admission.
Signup:          Go to this link to register for free and RSVP:  https://www.eventbrite.com/e/kansas-city-fox-hound-army-navy-alumni-watch-party-december-14-2019-tickets-83939586563
Questions:    Contact Bob Culler '74     bob.culler@1974.usna.com
Who:  USNA Alumni and Parents of Midshipmen (& Navy fans)
What:  Informal Watch Party Navy vs Memphis
Where: Coaches Bar & Grill 9089 W 135th Street, Overland Park, KS 66223
Phone: (913) 897-7070
When: Saturday September 8, 2018, Kickoff is at 2:30 PM Central, arrive early and eat lunch off the menu. RSVP not required but email if you think you can make it so I get the larger viewing room in the back.
Bob Culler's email:  bob.culler@1974.usna.com
OK the Hawaii game was a tough loss for the defense as Hawaii hung 59 points on the Midshipmen. It was non-conference and does not count in the AAC Conference standings. Come watch the Midshipmen at home in Annapolis at Navy Marine Corps Memorial Stadium. Arrive early and eat lunch at Coaches. Kickoff is at 2:30 Central.
Dear Virginia and Coach Bronco Mendenhall:
Fear the Goat!
Virginia coach Bronco Mendenhall made a point to mention how important it was for his team to be bowl eligible after the Cavaliers won their sixth game of the season against Georgia Tech in early November. The Virginia season concluded with a bad loss to another option team, falling 49-7 to Navy in the Military Bowl. The game started well for Virginia with a thrilling touchdown on the opening kickoff. 
After that, almost everything went wrong for Virginia. 
Not only did Virginia's offense fail to score, it didn't even reach the red zone in 11 offensive drives. There was only one field goal attempt (a miss from 47 yards), one interception, two lost fumbles and two turnovers on downs. 
But that only begins to describe how lopsided this game was on Thursday afternoon in Annapolis. Here are the four craziest stats from Navy's 42-point win: 
1. Navy did not complete a single pass, and only attempted one. Navy's two quarterbacks — Zach Abey and Malcolm Perry — combined for 0-for-1 passing for zero yards and a zero passer rating. Abey's single attempt came on a play-action pass in the third quarter, and if not for some very good coverage from Virginia's secondary, it could have resulted in a score. 
2. Virginia was outgained on the ground by 422 yards. Navy ran the ball 76 times for 452 rushing yards (5.9 yards per attempt) and scored seven rushing touchdowns. The Wahoos, on the other hand, could not get anything going on the ground and finished with just 30 net yards — a total that was helped greatly by a 20-yard run from Jordan Ellis in the final minutes of the game. 
3. All of the rushing touchdowns came from the quarterbacks. Abey scored five rushing touchdowns, joining an exclusive list of five that includes Barry Sanders and Kareem Hunt as the only players with five rushing touchdowns in an FBS bowl game. 
Navy – Tulsa game Saturday, September 30 Kickoff at 2:30 PM (Central Time)
UPDATE: NAVY 31 TULSA 21 FINAL. Local Chapter folks attending were: The Fee's '77, the McArthur's'84, the Culler's '74, the Cottrell's'93, the Hogan's (both USNA alumni) '04/'05, the (Tony) Mitchell's '67, Ed Chapline '48, Chuck Stevens '73, Jack Rush '73, Lance Heyen '04. So 11 K.C. alumni plus family members.  So we brought over 25 from Kansas City Chapter to the Tulsa game.
Tulsa President Harry Rouse '77 and K.C. President Bob Culler '74 were interviewed live on the Navy radio pre-game radio show on WNAV from the Tailgate at the Reynolds Center alongside Chapman Stadium in Tulsa.
Beat Tulsa Tailgate: 
When:
 Saturday, 30 September-  Time 11:30 AM. Tailgate
opens 3 hours before kick-off.
Where:

 University of Tulsa Campus—Reynolds Center – 

see Location MAP
Menu:
Barbecue buffet with pasta salad and chips. Ticket price includes beer for those 21 and above from 
Bitter Sisters Brewery
. Water, iced tea and lemonade will also be provided.
Hosts:

 Naval Academy Parent Club of Oklahoma
Registration:
Tulsa Tailgate
Deadline:
Online Registration will close at 4:00 p.m. Friday, 22 September. Walk-in registration will be available but prices will be higher at the door.
When: 

Friday, 29 September: Cash cocktail bar opens at 6:30 p.m. Dinner begins at 7:30 p.m.
Where:

 Tulsa Country Club, 

701 N Union Avenue, Tulsa, OK  74127
Menu:
 Wedge salad, beef and seafood duo, vegetables, bread, dessert, water, iced tea, red and white wine and coffee included.
Deadline: 
Registration will close at 4:00 p.m. Friday, 22 September.
Who: Navy Midshipmen vs. University of Tulsa Golden Hurricane
When: Saturday, 30 September
Kick-Off: 2:30 PM (Central)
Coverage: ESPNU / Navy Radio Network (Radio)
Parking Information:
F
rom Harry Rouse '77 President of the Tulsa USNA Alumni Association
The Reynolds Center is on the same side of the stadium as the visitor tickets.  It's about a 50 yard walk from the Tailgate to the entrance for Section 107.  Right next to each other.  The entrance for the Tailgater is on the side by the football stadium..
Parking-Well, it's just not very friendly for a game that draws only about 20,000.  Most of the university lots are reserved for "booster" parking.  No cash lots, at least not in the recent past.  But, 1) on street parking south of 11th street 2) on street parking East of Harvard or 3) Park for $5 or $10 at University Methodist Church, 2915 E 5th-about 8  blocks from the Reynolds Center.  Early arrival for the tailgate should solve many problems.
I would avoid parking in the neighborhood west of the track complex/soccer complex/softball field.  Too far away and not such a great neighborhood.  That's west of Delaware.  So park east and south of the stadium/Reynolds.
Tickets:
Football Game (AAC Conference Game)—Tickets can be purchased now at $30 each at

tickets on-line and select football road games. Tickets can be picked up at this date at the 
Will Call at Chapman Stadium. The game will not be a sellout (stadium predicted to be half full) 
so tickets can be bought on the game day as well at the stadium.
It is a seven hour drive from Kansas City to Memphis FYI.
Bob Culler "74
—————————————————————————————————————————————————————————–
Watching Navy on the road against Memphis? Check out the information below on the game, welcome meet and greet and tailgate.
Welcome to Memphis Meet and Greet
When: Friday, 13 October: 6 p.m. to 8 p.m.
Where: Charlie Vergas Rendezvous; 52 South 2nd Street, Memphis, TN 38103
Menu: Buffet to include cheese, sausage, pickles & peppers, ribs, pork shoulder, chicken breasts, beans, slaw, and rolls with unlimited soft drinks, tea and draft beer.  
Registration: Memphis Social
Deadline: Registration will close at 4 p.m. Friday, 6 October.
Beat Memphis Tailgate:
When: Saturday, 14 October- Time TBD. Tailgate opens 3 hours before kick-off.
Where: University of Memphis—Liberty Bowl – see Location MAP
Menu:  Memphis pulled pork, smoked chicken, baked beans, coleslaw, rolls and buns, banana pudding, cookies. Ticket price includes beer for those 21 and above from High Cotton Brewery Company.  Water, iced tea and lemonade will also be provided.
Hosts: Naval Academy Parent Club of the Mid-South, detailed information here.
Registration:  Memphis Tailgate
Deadline: Online Registration will close at 4 p.m. Friday, 6 October.  
THANK YOU to our generous sponsors for their support for the
Navy at Memphis Tailgate
Please visit www.usna.com/tailgates for more information on away football events, including Temple, Notre Dame and Houston!