Events, News & More
April 18 Navy/Marine Corps Social, at Burg & Barrel, Overland Park
Posted: 4/8/2019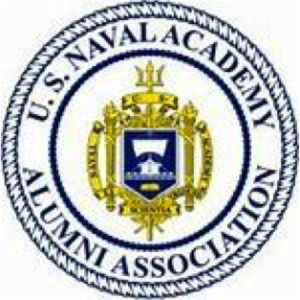 Our own Treasurer Jack Rush '73 has planned the early evening of Thursday April 18th for a social event co-hosted by the Navy League Greater Kansas City Council, Association of Naval Aviation (ANA), Marine Corps Business Network (MCBN), and US Naval Academy Alumni Association KC Chapter to be held from 4-7 p.m. now changed to the StageCoach Tavern.
Date: Thursday, April 18th, 2019
Food and Drink: Available on individual tab basis (very good Food)
Time : 4 – 7 p.m. (1600-1900)
Location: Stagecoach Tavern, Overland Park 
Address: 9617 W. 87th Street, Overland Park, KS 66212
There will be no guest speakers however each organization will be given a brief opportunity to provide a short overview summary of their organization, missions and goals. Please come by spend a few minutes or hours enjoying the company and meeting new Sea Services friends. Not restricted to veterans or active duty. All individuals supporting our sea services are welcome. Do not hesitate to invite friends and family members.
Update RADM Jeffrey Penfield, USN, Ret. (2015), who is a former F-18 SuperHornet pilot, and Navy fleet readiness expert, will be there talking about the challenges facing the sea services in the next decade and how our respective fraternal organizations can help influence younger Americans to serve, as military personnel needs continue to increase.
Please respond to me to RSVP your attendance so I can print you a name tag. Bob Culler bculler@sbcglobal.net         
Blue Angels in Kansas City 2019 4th July Weekend
Posted: 3/27/2019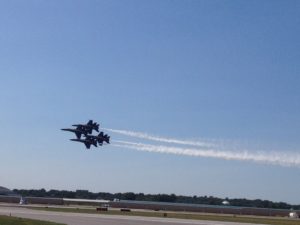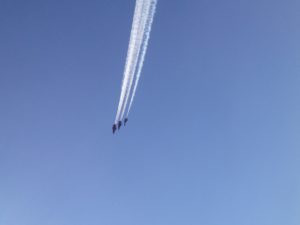 Save this date, the weekend after the 4th of July, 2019 the Navy Blue Angels will be performing at the Downtown Wheeler Airport in Kansas City, MO. As an Alumni Chapter we will partner with the Navy League, the USS Kansas City Commissioning Committee (LCS-22), and the Association of Naval Aviators to have a private viewing of their practice session on Friday, July 5 sometime early that afternoon on the tarmac of the Downtown Airport, and  meet and greet with the pilots and crew. You may want to put in for personal time off (PTO) of work that day to attend the special session up close and personal. The public performances will be on Saturday and Sunday.
Passing of John Owen '52 on March 21, 2019
Fellow Kansas City Alumni:

It is my sad duty to pass along to you and it was in the Kansas City Star on Sunday, March 24, 2019, the obituary of attorney John Owen age 89, USNA Class of '52, with his passing on March 21. He was a naval aviator, served in the Korean War, and was a prominent businessman, attorney, and civic leader in Kansas City. He is survived by his wife Billie of 58 years, three daughters and four grandchildren. His law degree was from the University of Missouri '61.

His service to the Kansas City community was of great distinction:

* Board of the Missouri Bar Association
* Estate Planning Society of Kansas City
* Kansas City Metropolitan Bar Association
* Chairman of the Board of the Salvation Army
* President of the Liberty Memorial Association
* Board of Trustees of the Kansas City Art Institute
* Treasurer of the Board of Education, Kansas City School District
* Boards of: Research Hospital, Lawyers Association of Kansas City, Sunset Hill/Pembroke Hill School, Carriage Club, University Club, Central Methodist College

He was past Executive Vice President of Commerce Bank, President and Chairman of Board of Plaza Bank and Trust, member of Country Club United Methodist Church.

A funeral service will be on Monday, March 25, at Mt. Moriah, Newcomer, and Freeman Funeral
Home with full military honors at 1:00 PM, followed by a reception.

There also will be a celebration of life at Country Club United Methodist Church (400 West 57th Street, Kansas City, MO) on Sunday April 7 at 3:00 PM.

Thank you,

Bob Culler '74

President Greater Kansas City Metro Chapter
Gary Sinise Luncheon with AUSA in Kansas City
Posted: 2/26/2019
Several members of the USNA Greater Kansas City Metro Chapter attended a grand luncheon event honoring actor Gary Sinise with the Col. Roger Donlon Patriot Award. We were behind enemy lines with the Army—-the AUSA (Association of the United States Army) on February 25, 2019, at the Downtown Marriott in Kansas City, MO. There were over 400 in attendance total.
Included Navy USNA alumni mingling with the Army were:  KC Chapter President Bob Culler '74, Chapter Treasurer Jack Rush '73, Board Member Chuck Stevens '73, Board Member Eric Carlson '74, Board Member Captain Mike Gochis '90 (SelRes still wearing the uniform), Board Member Bryan Didier '91, Retired Captain Dale Puhrman '73, and Stu MacArthur '84. Also attending was Honorary USNA Chapter member RADM Jeff Penfield, USN, Ret. and his wife Cynthia. Admiral Penfield is the only Navy Flag Officer living in Kansas City, and is Executive Chairman of the USS Kansas City (LCS-22) Commissioning Committee.
When it was announced in Gary Sinise's biography that the U.S. Navy had previously made him an Honorary Chief Petty Officer, the whole Navy contingent cheered loudly. Sinise's own father Robert Sinise, was a Navy Photographers Mate in the early 1950's, it seemed most appropriate. Actor Gary Sinise's has a new 2019 book out entitled Grateful American, A Journey From Self to Service. 
2018 Army Navy Watch Party December 8 from 1:00PM to 5:00 PM
Posted: 11/15/2018
2018 Kansas City Metro Area Army Navy Football Watch Party
When:              Saturday, December 8, 2018,Lunch Starts at 1:00 PM (Central), Kickoff is at 2:00 PM
What:               Combined Army Navy Watch Party and Buffet Lunch
Where:              Big Whiskey's American Restaurant & Bar, 9100 W 135thStreet, Overland Park, KS 66221
Capacity: 175 (135 seats in bar area + 40 seats in an adjacent private room). Additionally, there are 100 seats in the adjacent main restaurant area and 20 seats on the heated outdoor patio. All areas enjoy multiple large screen LCD TV's, so you won't miss a play – including the outdoor patio area! (improved from Blue Moose)
https://bigwhiskeys.com/location/overland-park/     Phone: (913) 257-5439
Who:              West Point Society of Greater Kansas City, West Point Parents Club, Friends of West Point, Naval Academy Alumni Association, Greater Kansas City Metro Chapter, Naval Academy Parents Club, Friends of the Naval Academy Alumni Association. Family members are invited.
Dress:             Army and Navy Spirit Wear  
Food:               A buffet lunch featuring party food: BBQ Pulled Pork Sliders, Big Whiskey's Wings, Assorted Cold Wraps, Cheeseburger Sliders, Garden Salad, Cookies and Brownies.
Cost:               $20 per person;which includes non-alcoholic drinks, tax, and gratuity. Cash Bar.
Signup:           Please go to this EventBrite link to sign up and pre-pay by November 28th.
Your event URL is www.eventbrite.com/e/kansas-city-metro-area-army-navy-watch-party-tickets-52696083404  (Register before December 3 at 5:00 PM)
You can pay by check or cash at the door BUT we encourage you to pre-pay on-line so we can have an accurate headcount for food. The price is $20 per person either way. If you do not register on-line please contact Bob Culler and RSVP by December 3. We will print paper stick-on nametags based on the information you provide when you register on-line. We will also have wrist bands for everyone upon check in at Big Whiskey's. Example nametags:  Karen Clark USMA '93, Bob Culler USNA '74, Joe Soldier Parent USMA '19, Sue Sailor Parent USNA '20, Chad Clark Army Fan, Jane Sailor Navy Fan, etc.
Objective:        Beat Army and Sing Second. The other objective is to socialize and have fun. Army and Navy fight music will play on the sound system in the background during the Pregame. Arrive 30 minutes early to get seats in the bar.
Questions:        Navy contact Bob Culler  bob.culler@1974.usna.com  (913) 488-6319 (cell)
Going to the Game Army Navy Game–Tailgate in Philly
Posted: 10/22/2018
Army-Navy Registration is Now Open!
It's the most wonderful time of the year! Sign up to cheer on Navy with the Alumni Association! Registration for our bus trip up to Philly and our tailgate is now available.
Army-Navy Game 

8 December 2018

3 p.m. Kick-off

Lincoln Financial Field

Coverage on CBS

 
Alumni Association Tailgate
11:30 a.m. to 2 p.m.
Join the Alumni Association for the best tailgate of the season! We are indoors with heat, bathrooms, hot food and an open bar at the Wells Fargo Center, walking distance from Lincoln Financial Field.
Alumni Association Bus Trip
Departs at 8:15 a.m.
Skip the hassle of driving into the city and let us do it for you. Our bus trip leaves from Navy-Marine Corps Memorial Stadium in Annapolis and brings you to the Wells Fargo Center and back again. Ride in style on our comfortable buses complete with trivia, prizes and Navy spirit. Unfortunately, no one-way discounted bus tickets are available.
Tailgate and Bus Combo Ticket
Sign up for both and save! Guests receive discounted tickets when purchasing both the bus and tailgate.
Sign up now and save with early bird pricing until 31 October. After this date, all prices will increase by $5. Registration closes on 1 December at 12 a.m. No refunds will be issued after this time. Registration may close sooner if the tailgate or buses sell out.
Please visit our website for more information, or email events@usna.com.
U.S. Naval Academy Alumni Association & Foundation
247 King George Street, Annapolis, MD 21402
(410) 295-4000 | www.usna.com
October 6 Navy Air Force Watch Party
Posted: 9/20/2018
What: Navy vs Air Force Televised Football Game, CBS Sports Network (played in Colorado Springs)
When: Saturday, October 6, 2018, Kickoff Time is 2:30 Central Time
Where: Coaches Bar and Grill:  http://www.coach-s.com , 9089 W 135th Street, Overland Park, KS 66223. Phone 913 897-7070. It is located near the Scheels Soccer Complex.
Lunch: Lunch is on your own off Coaches's menu but recommended you arrive at 1:00 to 1:30 so you get a seat. We are in the Fireplace Room on the back right. The capacity of the room is 35.
Attire: Navy or Air Force Spirit Casual
Who: USNA Alumni, USAFA Alumni, USNA Parents, USAFA Parents, Family Members
RSVP:  Navy–Bob Culler bob.culler@1974.usna.com
RSVP: Air Force–Greg Shuey gshuey@tensortech.com
_____________________________________________________________________________________________________
September 8 Navy Memphis Watch Party
Posted: 9/4/2018
Who:  USNA Alumni and Parents of Midshipmen (& Navy fans)
What:  Informal Watch Party Navy vs Memphis
Where: Coaches Bar & Grill 9089 W 135th Street, Overland Park, KS 66223
Phone: (913) 897-7070
When: Saturday September 8, 2018, Kickoff is at 2:30 PM Central, arrive early and eat lunch off the menu. RSVP not required but email if you think you can make it so I get the larger viewing room in the back.
Bob Culler's email:  bob.culler@1974.usna.com
OK the Hawaii game was a tough loss for the defense as Hawaii hung 59 points on the Midshipmen. It was non-conference and does not count in the AAC Conference standings. Come watch the Midshipmen at home in Annapolis at Navy Marine Corps Memorial Stadium. Arrive early and eat lunch at Coaches. Kickoff is at 2:30 Central.
Service Academy Picnic Includes USNA Alumni and Parents Club
Posted: 8/22/2018
All Academies Family Picnic 
–
 8 September – 1200 

– KCWineCO Winery
Grab your picnic basket and join us for the kickoff of the 2018-2019 Academies' Event Season with a family picnic, wine tasting, and meet-and-greet with service  academy candidates.  This is an important event for several reasons:
Academy Candidates: We are inviting candidates for all the service academies to come and meet graduates and liaison officers so they can get a chance to talk in person to officers who have been there and done that.  Many grads don't get many chances to talk to much less mentor students who are interested in attending a service academy.  Your participation is important so these young folks have an opportunity to talk to grads who served in different career paths. (After doing this as a liaison officer for 15 years, I can attest to the importance of giving these young people the big picture as well as the career benefits of serving in our military.) One other point: Parents of candidates are often clueless about the academies and, in particular, about military careers. Sadly, too many have distorted views of military service and fail to understand the benefits of being an academy graduate.  Your participation in this event is important in showing parents these benefits and allaying their fears.
Liaison Officers: This is an opportunity for liaison officers from the service academies to meet and talk to a number of candidates at one time, especially those who may only be applying to one service school but who need to understand the value in applying to more than one.  It is also a good opportunity to network with local grads and parents from the parents' clubs who might have leads on potential candidates not yet in the system.
Parents Club Members: Our three associations always try to arrange events so that the parents clubs can be involved.  This particular event is a great opportunity for you to meet potentially new members and to provide some great information on your cadets' experiences, activities, and successes.   As you probably remember, parents uninformed about the military and the academies have self-concocted misperceptions.  This is a great opportunity to help them understand the benefits the academies offer to their children.
Distinguished Guests: While it is too early to tell, we are inviting some of our good friends who are World War II veterans that have graciously graced our past events. These folks are real treasures and are fun to meet and talk to.  Invitations are also going out to some of our political leaders who are the sources of appointments to candidates.
Event Details:
Location: KCWineCo is an Academy grad-owned winery at 13875 S. Gardner Rd, Olathe, KS 66061 (web:

kcwineco.com

)                                      

(Take 135th St west to Gardner Rd and go 1/4 mile south.  Note: There are two entrances. Take the second (south) entrance and follow it back to the large building past the pond. If you mistakenly take the north entrance, go through the parking lot all the way to the south.)
Date/Time: Saturday, 8 September at 1200
Venue:

  Depending upon the weather and heat, we may be outside under the picnic tents or inside in their new private hall. If not, or for those who prefer the A/C, we have been given the use of 

the new event pavilion just opened up by the winery.
Food/Beverages:

 Bring your own picnic and preferred drinks.  However, KCWineCo will have a bartender for us and their entire line of wines available for purchase.  They will also provide soft drinks.
Games

: This portion of the winery has a lot of yard games for those wanting to challenge their sister service academies, or their own children – and by the way, the younger ones are invited too.  Any one wishing to organize some competitions are more than welcome to do so.
These events are great opportunities to share war stories (even of current children serving at the academies) and meet new friends.  We hope to see you there.
Gregory N. Shuey, Lt. Col., USAF (Ret)
President, KCAO
Blue Angels Practice on August 24, PM in St Joesph, MO (Rosecrans Field)
Posted: 8/16/2018
If anybody is interested in going up to St. Joseph, MO on Friday August 24 and viewing a Blue Angels practice that afternoon starting at 2:00-3:00 PM here is how you can get in to Rosecrans Field. The public performances are that weekend on August 25-26 at the same airfield.
You must do the following to get your name in the RSVP pool, as there is security you must pass through to get in the gate.
Email the Navy League President, Captain Dick Scharff USN, Ret. directly at navyusn1@gmail.com before 8:00 PM on August 16 and tell him your name, USNA Alumni Class, and the number of people in your party going. Your friends and family can get in with your in person escort.  
The gates open at 12:00 noon on Friday, August 24. It is a practice session and will not include all aircraft and maneuvers. The Blue Angels will not likely start their practice session until 2:00 to 3:00 PM. Enter the gate to the military airfield at the St. Joesph public airport. The gate is located on the South of the Main Runway 19-35. Again it is Rosencrans Field, which is a training facility for entire C-130 military community–Air Nation Guard, US Air Force, and foreign countries military.
To get into the base you must have one of these:  Name, Military ID or former Military papers, Membership in these organizations (Association of Naval Aviation, Navy League, Ft Leavenworth, etc.). You will need a drivers license or a picture ID card.
Parking is on the South part of the base close to the flight line. Golf carts will be available to help those who can't walk. Seating will be available and water and food for purchase. There is a covered area for the group via Navy League. Restrooms will be Porta-Potties.
Host military org is:  139th Airlift Wing of the Missouri National Guard. Col Byron Newell, is Commander of the Missouri Air Nation Guard, a former Naval Aviator and who is a USNA Alumni.