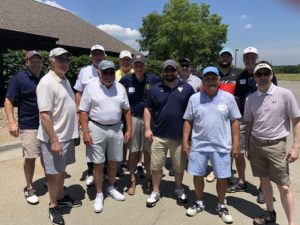 Kansas City Metro Area Service Academy Alumni Ring Knocker Classic
@ Staley Farms Golf Club 
When:                        Sunday, June 30, 2019 
Where:                       Staley Farms Golf Club, 10310 N. Olive Avenue, Kansas City, MO  64155 (816) 734-3839
http://staleyfarms.com/-course-infoStaley Farms is a private course rated #4 in the Kansas City Metro by the Kansas City Business Journal in 2019.  Go to the Staley Farms web page and pull up the scorecard for more information on the course. Bob Driscoll West Point '79 is a member and is our host.           
Time:              12-12:30 AM Check-in with a 1:30 shotgun start  
Format:          Team scramble.  Foursomes all players drive from the Combo Blue White tees (6311 yards, Par 72) best ball is selected for 2ndshot. Each player hits a ball from that spot. Continue this all the way to the green and until the ball is holed. If only three players in a foursome then rotate through all three players to hit the next #4 shot, not just the best player. No mulligans. The worst score on any hole is a bogey. So bogey is your friend.Ladies and Gentlemen over 70 can use the Gold Tees(5339 yards). Play toward a four-hour round as a goal.
Prize:             ATraveling Trophy based on the lowest average of all service branch foursomes scores wins. Again low average wins, of all foursomes. Service academies alumni societies are pitted against each other.
Cost:               $42.50 includes the military discount. Pay at the Pro Shop upon arrival, an hour before the tee time. Fee includes use of the Range. Please RSVP to Bob Culler not later than June 16: bculler@sbcglobal.net  or text 913 488-6319.
Lunch:            Lunch is not provided. Staley Farms has a very nice Fireside Bar & Grillwith excellent sandwiches, wraps, salads, and burgers. Suggest you get there early and dine with fellow academy golfers.
Trophy Presentation:           At the conclusion between 6:00-6:15 PM we will present the Commander & (KC) Chiefs trophy to the winner after all scorecards are turned in. See note below on scorecards.
Notes Updated on 06/04/2019
Foursomes can be shuffled/reorganized by Service Academy Alumni Team Captains, but must be finalized by June 26 to Bob Culler organizer via email. bculler@sbcglobal.netor 913 488-6319 cell
All players do not necessarily have to be service academy alumni, but the majority in the foursome should be. Parents of Alumni or service branch related friends (non Alumni) are welcome guests to "fill out" foursomes.
Greg Shuey is the Air Force Team Captain, Matt Blome is the West Point Team Captain, and Eric Carlson is the Navy Team Captain if they agree to accept. Captains make sure all foursomes know which tees to drive from, how to keep score using the scramble format, and gather all branch foursomes score cards at the conclusion, compute the average scores of all branch foursomes, and turn in to Bob Discoll.
Staley Farms has a dress code so make sure you comply. Shirts require collars and no jeans or jean shorts.
Staley Farms fairways are bent grass so please repair your divots on both greens and fairways.
We will try and do live scoring using the Golf Genius App on smart phones so you techie guys please see the Staley Farms web page and download Golf Genius App before June 30. Please keep scorecards in addition in case of a technology glitch.
Just so you know we average the scores of all alumni foursomes to get the branch score, so it is important to set up foursomes strategically to get some of the better players in each foursome.
All golfers please find Bob Driscoll, West Point '79, beforehand or afterwards shake his hand, and thank him for hosting us. Also buy him lunch or a drink.
I will distribute updated versions of this bulletin or flyer once we start filling in foursomes so you can see progress and where we need to make some phones calls to recruit some more alumni players. Let's make a commitment to get four foursomes each with this much notice. Bob Culler
Once foursomes are set, printed service academy logo'ed stick on name tags will be done so we can greet one another.