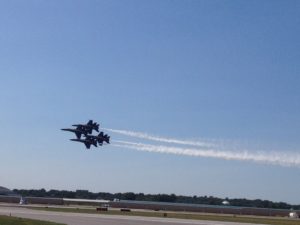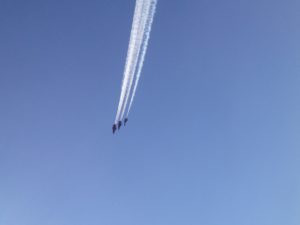 On Friday, July 5th the Navy League of Greater Kansas City, the Association of Naval Aviators, and the Naval Academy Graduates are hosting a VIP Blue Angels Event. This event will take place during the practice show for the U.S. Navy Blue Angels at the Wheeler Kansas City downtown Airport. This is a chance to watch their show before the Kansas City Air Show on Saturday and Sunday. After the show, the Blue Angels will come and greet our tent.
We will have a catered lunch and we hope to raise money help support the Blue Angels friends and family tent at the Kansas City Air Show. These funds will help offset some of the costs of having them at the Air Show. We hope by helping support these causes, that the Blue Angels will be encouraged to come back to our wonderful city in the future
This partnership will indirectly support the USS KANSAS CITY Commissioning Committee. Please see the attached flyer and consider supporting and attending this special event.
Sincerely,
Ward Cook
U.S.S. KANSAS CITY (LCS 22) Commissioning Committee, Executive Director
(816) 210-3276
If anybody is interested in going up to St. Joseph, MO on Friday August 24 and viewing a Blue Angels practice that afternoon starting at 2:00-3:00 PM here is how you can get in to Rosecrans Field. The public performances are that weekend on August 25-26 at the same airfield.
You must do the following to get your name in the RSVP pool, as there is security you must pass through to get in the gate.
Email the Navy League President, Captain Dick Scharff USN, Ret. directly at navyusn1@gmail.com before 8:00 PM on August 16 and tell him your name, USNA Alumni Class, and the number of people in your party going. Your friends and family can get in with your in person escort.  
The gates open at 12:00 noon on Friday, August 24. It is a practice session and will not include all aircraft and maneuvers. The Blue Angels will not likely start their practice session until 2:00 to 3:00 PM. Enter the gate to the military airfield at the St. Joesph public airport. The gate is located on the South of the Main Runway 19-35. Again it is Rosencrans Field, which is a training facility for entire C-130 military community–Air Nation Guard, US Air Force, and foreign countries military.
To get into the base you must have one of these:  Name, Military ID or former Military papers, Membership in these organizations (Association of Naval Aviation, Navy League, Ft Leavenworth, etc.). You will need a drivers license or a picture ID card.
Parking is on the South part of the base close to the flight line. Golf carts will be available to help those who can't walk. Seating will be available and water and food for purchase. There is a covered area for the group via Navy League. Restrooms will be Porta-Potties.
Host military org is:  139th Airlift Wing of the Missouri National Guard. Col Byron Newell, is Commander of the Missouri Air Nation Guard, a former Naval Aviator and who is a USNA Alumni.